Why did I fight for Wesnoth?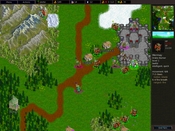 I'm really upset with
Wesnoth
developers for bringing out such an enjoyable game. It has lots of maps, scenarios and campaigns to explore, pretty attractive graphics and theme. It even has multiplayer support over network. What a good combination to ruin your night... Like me, my wife and a friend of mine (Meren) did tonight.
Wesnoth gained my attention while I was fixing it's PiSi package. And tonight before we go to sleep, I suggested to give a chance for a network game. Even I'm not a gamer type we all fall in to the game till 4am. You now, that's no good. Having that we have a meeting to attend this morning, that's really not good...
My curse on you
Wesnoth developers
and it's first PiSi packager. Now, without a sleep we'll have to go to work. But at least, this gave us 2 more hours to hack on our projects ;).